1397/11/06 16:01:00
Journal of Craniomaxillofacial Reserarch
Oral lichen planus in a child in association with psychological stress: A case report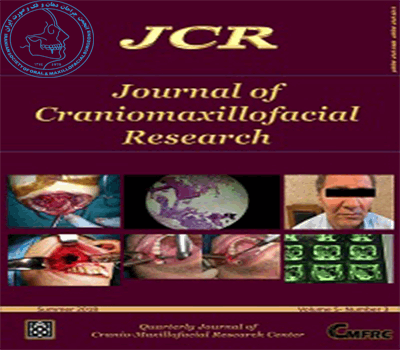 Department of Oral Medicine, School of Dentistry, Tehran University of Medical Sciences, Tehran, Iran.
Dentist, MPH, Department of Health Promotion and Community Health Sciences, Texas A&M University Health Science Center, College Station, Texas, United States of America.
KEYWORDS: Oral, Lichen planus, Infant, Stress.
ABSTRACT
Oral lichen planus (OLP) is a chronic autoimmune cell-mediated disease affecting mucocotaneous tissues of oral cavity. Recent studies revealed that psychological stress may act as a trigger to initiate clinical symptoms. An 8-year-old girl complaining of oral ulcer, pain and irritation in mouth with onset of 3 months ago, was admitted to oral medicine department. Her medical history was negative except for severe psychological trauma in last 6 months. Intraoral examination showed bluish purple atrophic erosive striations with hyperkeratosis. Pathological study of buccal lesions confirmed OLP diagnosis. As all primary investigations were negative; psychogenic origin was suspected. Although it is rare for a child to have OLP but it should be taken into consideration in differential diagnosis of red and white oral lesions in children. Huge impact of psychological factors in the occurrence of oral diseases have suggested that they should be treated in combination with psychotherapy. Keywords: Oral, Lichen planus, Infant, Stress.
REFERENCES
1. Vincent, S.D., et al., Oral lichen planus: the clinical, historical, and therapeutic features of 100 cases. Oral Surg Oral Med Oral Pathol, 1990. 70(2): p. 165-71.
2. Nanda, A., et al., Childhood lichen planus: a report of 23 cases. Pediatr Dermatol, 2001. 18(1): p. 1-4.
3. Shah, B., L. Ashok, and G.P. Sujatha, Evaluation of salivary cortisol and psychological factors in patients with oral lichen planus. Indian J Dent Res, 2009. 20(3): p. 288-92.
4. Sandhu, S.V., et al., Oral lichen planus and stress: An appraisal. Contemp Clin Dent, 2014. 5(3): p. 352-6.
5. Nadendla, L.K., et al., Association of salivary cortisol and anxiety levels in lichen planus patients. J Clin Diagn Res, 2014. 8(12): p. Zc01-3.
6. Aguirre, J.M., et al., Efficacy of mometasone furoate microemulsion in the treatment of erosive-ulcerative oral lichen planus: pilot study. J Oral Pathol Med, 2004. 33(7): p. 381-5.
7. Mohan Das, U. and B. Jp, Oral lichen planus in children. Int J Clin Pediatr Dent, 2009. 2(1): p. 49-51.
8. Balasubramaniam, P., M. Ogboli, and C. Moss, Lichen planus in children: review of 26 cases. Clinical and experimental dermatology, 2008. 33(4): p. 457-459.
9. Patel, S., C.M. Yeoman, and R. Murphy, Oral lichen planus in childhood: a report of three cases. Int J Paediatr Dent, 2005. 15(2): p. 118-22.
10. Agrawal, S., et al., Lichen planus after HBV vaccination in a child: a case report from Nepal. J Dermatol, 2000. 27(9): p. 618-20.
11. MILLIGAN, A. and GRAHAM-BROWN, R.A.C. (1990), Lichen planus in children—a review of six cases. Clinical and Experimental Dermatology, 15: 340–342. doi: 10.1111/j.1365-2230.1990.tb02108.x
12. Dusek, J.J. and W.G. Frick, Lichen planus: oral manifestations and suggested treatments. Journal of Oral and Maxillofacial Surgery, 1982. 40(4): p. 240-244.
13. Jakovljević, M., Myths and facts in contemporary psychopharmacotherapy: evidence-based vs. evidence-biased treatment algorithms practice. Psychiatria Danubina, 2007. 19(4): p. 342-349.
14. Gruden Pokupec, J.S., V. Gruden, and V. Gruden Jr, Lichen ruber planus as a psychiatric problem. Psychiatria Danubina, 2009. 21(4): p. 514-516.
Download